The Masquerade Visualizers
mxmtoon
Overview
Film a series of music visualizers for mxmtoon's debut album The Masquerade.
Roles
Director
Cinematographer
Editor
Team
Talent
Maia M-T
Allie B.
Producers
Kirk E.
Max G.
Timeline
June 2019
to
August 2019
background
i love music.
After wrapping up my first year of college, I relocated to Los Angeles for the summer to intern at Paradigm Talent Agency in their music department. At that point, I was fully absorbed in the music industry and lavish Beverly Hills lifestyle, açaí bowls and all. However, I would frequently travel back to the Bay Area to see friends and family. At the same time, my friend Maia, better known as mxmtoon, was inching close to the release date of her debut album, The Masquerade. I had worked with Maia previously on digital assets as we were both home for the first semester of college (she was taking a gap year, and I was a spring-admit). The projects we worked on ranged from shooting the album cover, all the way to Spotify visualizers for a couple of the tracks. It was an absolute blast!
Over the course of the summer I had stayed in touch with her manager who is based on the East Coast. That being the case, much of the production, transportation, and day-of logistics fell into my lap, and I had developed a liking and skill for the preparation process. That being said, this next project was different.

problem
so, we have a one day window.
I got an email from Kirk.
"When are you back in SF? Would like to hold a couple more days with you if possible."
At that point, there was only one more weekend I had planned on traveling back to the Bay Area to see family and friends. He asked me if I could hold those days for content, and I said absolutely.
Over the next few weeks, we began planning the shoot, which I quickly learned was nothing like the shoots we had done before. More than anything, the challenge with this project would be surrounding time management.
ideation
the weekend visualizer sprint!
The goal was to shoot 6 videos in 1 day. While creatively/artistically simple, the challenge with this project was that each of the videos was for a different song, that told a different story, which required a different location.

As one of the locals to the area, I was tasked with brainstorming a mood board and location scouting based off of rough ideas Maia had for each song. At the same time, I had to consider that all of this had to be shot within our roughly 10 hour window, as well as factor-in other variables such as travel, lunch, etc.
In order to accomplish this, I mapped out a precise daily schedule that outlined exact times, what we should be doing, and any complementary information in a notes section in order to clearly layout what I was thinking for Maia and her team.
For a project like this, organization and communication were essential.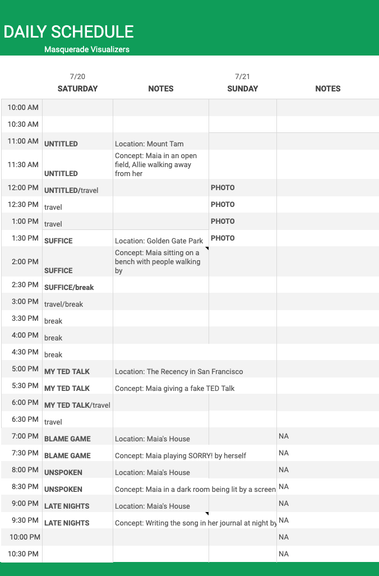 results
shoot, move, eat, repeat.
It was showtime. I hopped on my flight at LAX around 3 pm and landed at SFO and was back home by 5 pm. Right after getting home and plugging in my camera batteries to charge, I headed to my friend Kapp's house who was kind enough to let me borrow some lenses for the shoot, super clutch. After I returned home, I did an equipment check, set my alarm, and got a good nights rest for the next day.
The shoot went incredibly smooth, despite the fact that it was non-stop. We shot the first two visualizers for untitled and suffice at Mount Tamalpais and Golden Gate Park respectively, then had a break for lunch. We stopped at Nick's Crispy Tacos where we also filmed a food review, check it out here. After lunch, we headed to The Regency, a famous venue in SF, to shoot my ted talk (which we would later re-shoot). Finally, we ended the day at Maia's home to wrap up the last three visualizers for blame game, unspoken words, and late nights which were all filmed in various places of her home.
After the shoot, I packed up my equipment, said bye to Maia and her family, and was out the door an hour before our schedule had expected us to conclude. Much love to Maia and her team!
As of December 2020, the visualizers have aggregated 4,750,000 views.