When the Yerba Drops
Guayakí Yerba Mate
Overview
Produce and creatively direct a commercial for the roll-out/rebrand of Guayakí Yerba Mate's ambassador program, Yerba U.
Roles
Co-Producer
Co-Director
Cinematographer
Editor
Co-Choreographer
Team
Co-Producer/Director
Dominic M.
Dancers
Conrad R., Devin M., Camila P., Alexa C., Erica T., Will L.
Film Crew
Matt J., Kevin H.
Timeline
August 2018
to
February 2019
background
i love to dance.
In my sophomore year of high school, I dipped my toe, quite literally, into dance. I'm surprised I hadn't tried it sooner, having a break-dancing brother and a Zumba teaching mom. I joined a competitive hip-hop dance team, which was the catalyst for me trying Yerba Mate; my friend would bring a few cans to our grueling five-hour long rehearsals. My passion for dance grew immensely over the next three years, all while I was exploring my interest in videography and photography. By the end of my senior year, I had worked with a couple of friends on a few dance concept videos where we filmed original choreography and threw in B-roll of Guayakí Yerba Mate cans that we had consumed before the shoot. Little did I know I would be creating a portfolio used to pitch a real commercial.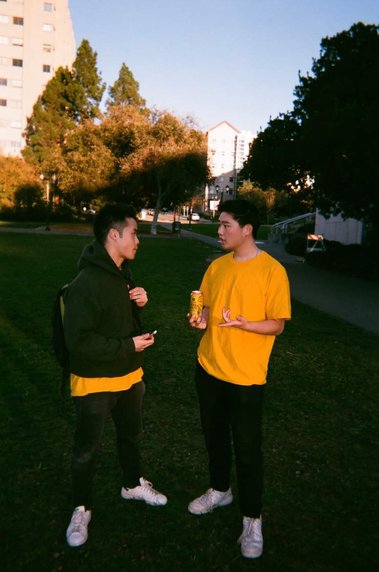 problem
what's the pitch?
A few months after the release of our concept videos, we had garnered a comment from the Guayakí Instagram account. Dominic and I decided it was time to level up. Fundamentally, we were inadvertently making ads for Guayakí, and it finally occurred to us: Why not work with them?
After scouring our networks and reaching out to any and all connections, we were final able to connect with Guayakí's Digital Media Director who was gracious enough to set up a call with us.
At that point, Dominic and I had been working on a concept for about two months in order to hit the ground running. However, our plans quickly changed when our original idea was not the "vibe" they were looking for, which was entirely our fault. What we failed to realize in our initial planning was that we were no longer making a dance video that was going to be thrown up on our personal accounts. This video had to embody the essence of Guayakí.
ideation
back to the drawing board.
Dominic and I laughed out loud. It was clear. We had to revamp our entire concept from cast and crew, to costumes, to location, to choreography. However, we learned a valuable lesson: how to cater to a client's/customer's needs.
Over the next two weeks, we squeezed in two months worth of preparation, which culminated in a detailed project brief, shot list, a new cast and crew, budgeting forms, and original choreography.
The majority of our time was spent diving deep into Guayakí's core values as a company whose product and origin are rooted deep in South American yerba mate culture. The pain point we identified was that much of the rich culture yerba mate holds is unknown to its consumers in the United States. Our idea was to use dance as a catalyst, bringing to light concepts like gourd culture through a vibrant and energetic medium. This concept was paired with the roll-out/rebranding of Yerba U, a nationwide network of ambacebadors (college ambassadors tasked with sharing Guayakí Yerba Mate).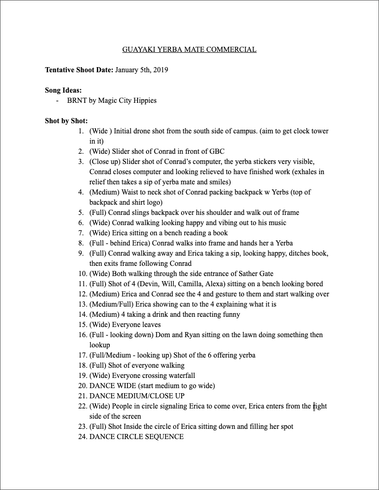 results
lights... camera... action!
Despite a plethora of set backs, the shoot went surprisingly smooth, with the exception of our drone almost being lost due to poor connectivity on a flight run minutes after getting on site. We spent six hours of a beautiful day on UC Berkeley's campus which acted as our set. Our cast and crew were absolutely amazing and made everything wildly easier. This project also allowed me to take an idea from concept through creation while balancing leading a team and managing the expectations of the client. The first commercial, "When the Yerba Drops", successfully launched in February 2019 and the second, which I filmed on my college campus, was released in May 2020.